Info for visitors
We want to make the Dutch Pen Show interesting for all pen lovers.
Of course there will be lots of  modern and vintage pens, sometimes with great discounts! But you can also choose from a variety of stationery, notebooks and journals, pen cases, ink and lots of other accessories.
You can also attend our workshop 'Fountain Pen TLC'.
Would you like your favourite pen to write even better? Visit a nib meister and have it tuned just the way you like it.
It's my first show, what can I expect?
Well, the main attraction of a pen show are of course the pens. Most pens you'll see will be fountain pens, but we don't discriminate, so you'll also find rollerballs, ballpoints and an occasional pencil. You can also find plenty of accessories for storing and carrying your pens, hundreds of ink colours and of course the perfect stationery to write on. There will be something for every budget, whether you're looking to spend € 10,- or € 10.000,-.
To get the most out of your day and your budget, we strongly recommend asking lots of questions. Our vendors are very passionate about their products and are more than happy to show you their products and help you make your choice. You will also notice that the fountain pen community is a very welcoming group, so most of the other visitors will be happy to share their knowledge as well.
From experience we know it's very easy to get carried away when you're surrounded by all these beautiful pens. It might be helpful to set yourself a budget before your visit.
The expected attendance is highest between 12:00 and 13:00.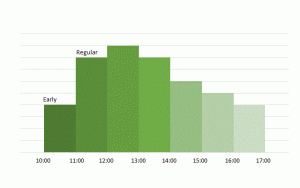 Do's and Don'ts
Before the show:
Bring paper to test pens or ink on, your swatch collection to compare inks and a pen for the workshop!
You will receive a goodiebag (while stock lasts). If you prefer to bring your own bag, we recommend a shoulder bag.
Bring cash! Not every vendor accepts cards, and the nearest ATM is a 20 minute walk.
During the show:
The restaurant is open all day. We'll also have a coffee corner, where you can have a cup of coffee and chat. Please don't eat or drink in the sales room.
Give people some space.
There are no specific rules other than common courtesy and manners.
Treat people the way you would like to be treated.
See a pen you like? Ask the vendor if you can have a closer look. They'll be happy to help you!
It is not uncommon to negotiate the price of a pen, but be polite and bid reasonably.
Mind your belongings
Parking
The Van der Valk hotel has a parking garage.
Please note that there will be a lot of tourists staying at the hotel during the weekend, so parking in the morning is limited. Once the tourists have left (usually after midday), more parking space will be available.
If you arrive early and the parking garage is full, there are quite a few options for road-side parking in the streets surrounding the hotel. If all else fails: there is a huge shopping place across the main road, with an IKEA and lots of other furniture stores. Plenty of parking space there!
We hope you have a wonderful day, and If you have any questions, just let us know. You can recognize us by our 'Crew' T-shirts. We will be happy to assist you.
Selling your Pre Owned Pen at the Dutch Pen Show.
For visitors who want to offer a pre-owned pen for sale at the Dutch Pen Show:
You may offer a maximum of 3 pens per person.

You agree that Dutch Pen Show will retain a fee of 10% of the sale price.